Free Shipping & Returns Policy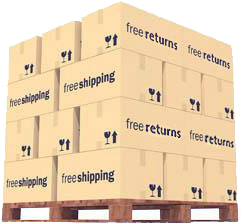 For many, buying filters is not something they enjoy doing. Nor is it something they may be completely comfortable doing. We go to great lengths to make sure that our website is easy to use and filled with accurate, useful information to help you find the right filter for your home. To stand by that commitment we offer Free Shipping for all domestic orders, and Free Returns when you aren't completely satisfied.
We want to be your filter source for life, so we need to give you reasons to keep coming back.
Free Shipping
No minimum order sizes, no special rules, no hidden fees. Every item we sell states clearly when it will ship, and in most cases you can expect to receive your order within a few business days after placing your order.
Free Returns
We are so confident that you will find the right item that we promise to pay the return shipping if you are not 100% satisfied. You have up to 1 full year to return the items to us.
Returned items should be in the same condition that you received them.
Items should be returned with the original packaging.
Use our simple return instructions to ship the items back to us.
Once your return is received and inspected we will process a refund back to your credit card or original method of payment within 7 days. Please note that your credit card company may not post the credit to your account for an additional 2-10 business days.
If you have any questions about our shipping or return policy, don't hesitate to contact us.